Medical Collections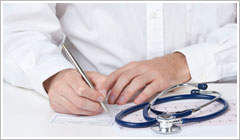 Genesys National Recovery understands the importance of keeping your reputation and your patient's loyalty.
We specializes in Recovering your medical collections or medical billing without damaging your reputation, losing your patients, or destroying your profit margin.
Genesys National Recovery has a specialize highly trained team for medical collections service, we can assist you to diminish write-offs and keep your patients coming back to you for care. If your practice is sending out multiple patient invoices or medical billing month after month after month, the time might be right to use our highly recommended medical collections service.
Genesys National Recovery team can motivate delinquent patients to pay you for the medical services you provided to them. Using our medical collections service lets your patients know you are determined to get paid what you are legally and ethically owed, but we work on keeping them as your patients.
Proper medical collections can also help pay for some of the exploding costs of medical malpractice insurance. Recovering your bad debt or medical billing by using medical collections actually frees up your cash to fund expensive malpractice premiums and other medical liability costs. Our highly recommended medical collections service can allow you to concentrate on what you do best - provide healing care.
Professional Nationwide Consumer and Commercial Collection
Lowest Rates in the Industry with the Highest Recovery
Bonded, Licensed and Insured
Online 24/7/365 Client Access & Client Support

13155 SW 134th St Suite 220,
Miami Fl 33186
Phones: (305) 232 0272