Commercial Collections
Methodology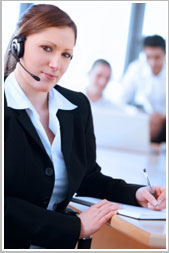 Genesys National Recovery has designed a special methodology for commercial collections with excellent results; here you can have an idea of how we do it.
First, we locate your customers. We use the most current and innovated skip tracing tools on all of your accounts, in that way we certainly know possible contact information for your customers and tracking down third-party contacts.
Secondly, we communicate with your customers to get a strong handle on the situation. At Genesys, our job is to determine the reasons for your customers' delinquency and to create a solution that is both manageable for the customer and maximally beneficial for you, our client.
We believe in the importance of building a relationship between your customers and our collection staff that is based on trust and respect, for this purpose we have create an special approaching procedure, asking questions to pinpoint the ability to pay from your customers side.
Throughout the collection process, we diligently communicate with your customers in a manner that evokes a positive outcome, maintaining your hard-earned relationships and ensuring that your reputation is held to the highest standard.
Finally, we overcome any issues and resolve your accounts. We maintain an extremely high recovery percentage for our clients, and we pride ourselves on maintaining a constant flow of revenue back to you on a monthly basis.
How it begins
When we first receive your account, we use our extensive experience to provide you with an estimated annual recovery percentage. Historically, our estimates have been remarkably accurate, so you can count on settling your accounts at the rate we discuss.
Our Tools
We give all your accounts the keenest consideration.
Genesys National Recovery uses the most current and effective skip tracing tools, pinpointing the most recent contact information for your customers and locating them quickly.
We offers you a custom-made letter series, through which we can generate specialized letters, based on the specifics and balance ranges of the accounts you have placed with us. We will send these personalized letters to your customers at strategic times, ensuring the greatest impact and efficiency.
Genesys National Recovery has a team of skilled, bilingual employees, so that we can call your customers at various times of the day to ensure that we establish contact with them quickly.

13155 SW 134th St Suite 220,
Miami Fl 33186
Phones: (305) 232 0272