collection agency
About Us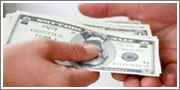 Genesys National Recovery is a Collection Agency that has consistently been the most productive agency any of our clients have used.
We are a fully bi-lingual operation with the latest systems and technology to get the best results possible on delinquent account recovery.
Our Clients

If you are the CEO of a health and fitness club, we are sure that you have a lot of clients that owe you money, people that walk out on the contracts and have not paid their monthly fees up to date. Genesys National Recovery can help collect your money. We have a 12 year track record of being one of the top producing Accounts Receivable Management and Collection Agencies in the Health and Fitness Club Industry.
Genesys does not only specialize in Fitness, we also have a great record of recovery from patients of hospitals and medical centers as well as dental offices. Please give us a call and one of our representatives will tell you more about our success stories and how you can collect your money.
At Genesys National Recovery, we recover monies for you that were considered a loss thereby increasing your profits and cash flow signicantly.

Benefits
Increases our clients cash flow bottom line by recovering accounts that were not paying. No out of pocket expenses, as we work on a performance basis.

13155 SW 134th St Suite 210,
Miami Fl 33186
Phones: 954-374-3555